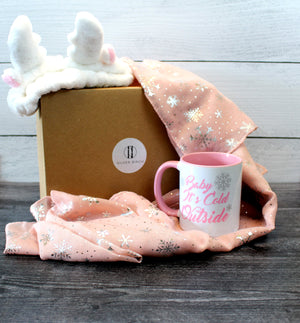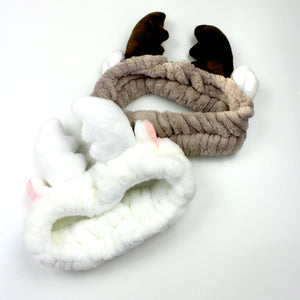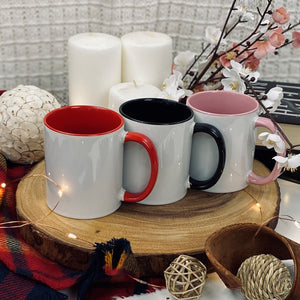 'Tis the Season!!
Lets get into the holiday season with this new gift box perfect as a gift or to pamper yourself. We only have a few of these boxes so hurry before we run out!
▬▬▬▬▬▬▬▬▬▬▬▬▬▬▬
DETAILS
▬▬▬▬▬▬▬▬▬▬▬▬▬▬▬▬
Our Winter Wonderland Gift Box includes
A Sparkly Snow Flake Scarf (Pink, Navy, Grey)
Our uniquely designed Baby It's Cold Mug comes in Red, Burgundy, Pink, Green, Black  (Color matching personalization provided)
Reindeer Spa Ears (comes in white and chestnut)
Comes in our Natural Kraft Box and filled to the brim with red and silver crinkle paper to keep everything safe
Our Gifts Boxes are specifically chosen and combined to provide you with an exceptionally unique product for you or you loved ones to enjoy. Our Mugs are created using the highest quality Vinyl, handmade designs that are made to order right here in the USA. In order to be ecofriendly, we avoid using any kinds of toxins on our mugs and therefore the vinyl is not covered in epoxy, though the design will remain permanent.
▬▬▬▬▬▬▬▬▬▬▬▬▬▬▬▬
SIZING
▬▬▬▬▬▬▬▬▬▬▬▬▬▬▬▬
Mugs are 11oz
Reindeer Spa Band is one size
Snowflake Scarf 26in X 70in
▬▬▬▬▬▬▬▬▬▬▬▬▬▬▬▬
CARE INSTRUCTIONS
▬▬▬▬▬▬▬▬▬▬▬▬▬▬▬▬
Reindeer Ears: Wash by hand
Scarf: Machine wash cold, do not iron on detail (for best results iron on low and inside out)
Mug: In order to keep the designs safe we recommend washing by hand and using a none abrasive sponge to wash. Our mugs can be machine washed and have been tested several times with great success. Please note any designs with glitter should NOT be put in the microwave    
▬▬▬▬▬▬▬▬▬▬▬▬▬▬▬▬
PERSONALIZATION
▬▬▬▬▬▬▬▬▬▬▬▬▬▬▬▬
We absolutely love to customize for people! Want to add a name or have the same design on a different product, let us know and we'll send you an estimate ASAP. Want a completely different design altogether, lets chat and see what's on you mind. We love getting inspired!
▬▬▬▬▬▬▬▬▬▬▬▬▬▬▬▬
SHIPPING

▬▬▬▬▬▬▬▬▬▬▬▬▬▬▬▬

At the moment we have no expediate shipping but we try our best to have items ship out as fast as possible and we're working on providing this service as soon as possible If there is a specific date that you need the order by, please contact us FIRST and we can estimate the shipping time for you. USPS does experience rerouting and delays from time to time and Silver Birch will always follow up with you in these cases. Military Addresses may require additional delivery days depending on location

▬▬▬▬▬▬▬▬▬▬▬▬▬▬▬▬

RETURN POLICY

▬▬▬▬▬▬▬▬▬▬▬▬▬▬▬▬

Unfortunately because we print to order, we cannot offer any refunds or returns, however please contact us and we'll be sure to figure out a solution for you

▬▬▬▬▬▬▬▬▬▬▬▬▬▬▬▬

Silver Birch

▬▬▬▬▬▬▬▬▬▬▬▬▬▬▬▬

Thanks for choosing to shop with us! We hope you love our stuff as much as we do. Share the love on social media and tag us for a chance of free giveaways!

Instagram - @SilverBirchGifts @Ampedtees

Facebook - @SilverBirchGift @AmpedTees