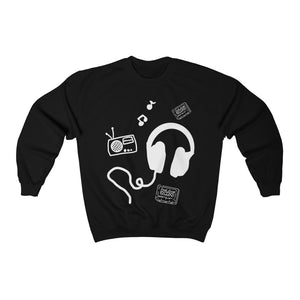 ▬▬▬▬▬▬▬▬▬▬▬▬▬▬▬
DETAILS
▬▬▬▬▬▬▬▬▬▬▬▬▬▬▬▬
Our T shirts/Hoodies/Tank Tops are created using only the finest cotton shirts from Gildan and Bella + Canvas and Rabbit Skins. Ideal for any situation, a unisex heavy blend crewneck sweatshirt is pure comfort. These garments are made from polyester and cotton. This combination helps designs come out looking fresh and beautiful. The collar is ribbed knit, so it retains its shape even after washing. There are no itchy side seams on these sweaters. All our designs and manufacturing are done right here in the USA and we pride ourselves on putting our customers first. Some of our shirts are pictured with knots and rolled up sleeves, for an accurate representation please look at the product pictures with white backgrounds. To get the cuffed affect you can simply roll them up! Yay!
 - 50% Cotton 50% Polyester
 - Medium-heavy fabric (8.0 oz/yd² (271.25 g/m²))
 - Sewn in label
▬▬▬▬▬▬▬▬▬▬▬▬▬▬▬▬
SIZING
▬▬▬▬▬▬▬▬▬▬▬▬▬▬▬▬
 - Loose fit
 - Runs true to size (this is a unisex garment so for a tighter fit please size down)
▬▬▬▬▬▬▬▬▬▬▬▬▬▬▬▬
CARE INSTRUCTIONS
▬▬▬▬▬▬▬▬▬▬▬▬▬▬▬▬
Machine wash cold
Tumble dry on low heat
Do not iron directly on graphics/letters
Do not dry-clean
▬▬▬▬▬▬▬▬▬▬▬▬▬▬▬▬
PERSONALIZATION
▬▬▬▬▬▬▬▬▬▬▬▬▬▬▬▬
We absolutely love to customize for people! Want to add a name or have the same design on a different product, let us know and we'll send you an estimate ASAP. Want a completely different design altogether, lets chat and see what's on you mind. We love getting inspired!
▬▬▬▬▬▬▬▬▬▬▬▬▬▬▬▬
SHIPPING
▬▬▬▬▬▬▬▬▬▬▬▬▬▬▬▬
At the moment we have no expediate shipping but we try our best to have items ship out as fast as possible and we're working on providing this service as soon as possible
If there is a specific date that you need the order by, please contact us FIRST and we can estimate the shipping time for you.
USPS does experience rerouting and delays from time to time and Silver Birch will always follow up with you in these cases.
Military Addresses may require additional delivery days depending on location
▬▬▬▬▬▬▬▬▬▬▬▬▬▬▬▬
RETURN POLICY
▬▬▬▬▬▬▬▬▬▬▬▬▬▬▬▬
Unfortunately because we print to order, we cannot offer any refunds or returns, however please contact us and we'll be sure to figure out a solution for you
▬▬▬▬▬▬▬▬▬▬▬▬▬▬▬▬
Silver Birch

▬▬▬▬▬▬▬▬▬▬▬▬▬▬▬▬

Thanks for choosing to shop with us! We hope you love our stuff as much as we do. Share the love on social media and tag us for a chance of free giveaways!

Instagram - @SilverBirchGifts @Ampedtees

Facebook - @SilverBirchGift @AmpedTees